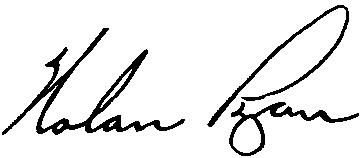 | | | |
| --- | --- | --- |
| | Hall of Fame Class of 1999 | |

Name: Lynn Nolan Ryan, Jr.
Birthdate: January 31, 1947
Birthplace: Refugio, Texas
Home: Alvin, Texas


Family: Wife Ruth (married 06/26/67); children Robert Reid (11/21/71), Nolan Reese (01/21/76) and Wendy Lynn (3/22/77)




The Transactions
06/08/1965 - In the first ever Major League Baseball Player draft, 295th player taken. 12th round selection of the New York Mets
06/26/1965 - Signed by Red Murff to first professional contract
12/10/1971 - Traded with Don Rose (P), Francisco Estrada (C) and Leroy Stanton (OF) to the California Angels for Jim Fregosi (IF)
11/19/1979 - Signed as a free agent by the Houston Astros
1985 - Inducted into the Texas Sports Hall Of Fame in Waco, Texas
12/07/1988 - Signed as a free agent by the Texas Rangers
02/11/1993 - Announced his retirement after the 1993 season
1994 - As part of his final contract signed with the Texas Rangers, entered a 10 year Personal Service contract with the Texas Rangers
02/24/1995 - Appointed by Texas Govenor George W. Bush to serve a 6 year term as commissioner with the Texas Parks and Wildlife Commission

06/01/1995 to 08/28/97 - Served as Vice President of the commission

1998 - In conjunction with a group of investors, purchased the Double-A Texas League Jackson Generals moving it to Round Rock in time for the 2000 season
01/05/1999 - Elected to the Baseball Hall of Fame
Summer 1999 - Receiving the most votes in the Pitchers category ( 992,040 ), named to the Major League Baseball All Century Team presented by MasterCard
07/25/1999 - Inducted to the Baseball Hall of Fame in Cooperstown, New York
2003 - The Ryan group purchased the Triple-A Pacific Coast League Edmonton Trappers franchise with intentions to move the team to Round Rock after the 2004 season. The Double-A affiliation moved to Corpus Christi to become The Corpus Christi Hooks
02/24/2004 - Signed a 5 year Personal Service contract with the Houston Astros as a special assistance to the General Manager
02/06/2008 - Named the 10th team President in Texas Rangers' history
08/05/2010 - Prevailed in bankruptcy auction to gain ownership of the Texas Rangers
10/18/2013 - Annouced his resignation as CEO of the Texas Rangers effective 10/31/2013. Sold his stake in the franchise to co-chairmen Ray Davis and Bob Simpson
02/11/2014 - Rejoined the Houston Astros in the role of Executive Advisor. As part of his role, Ryan will serve as an advisor to club owner Jim Crane, General Manager Jeff Luhnow and President of Business Operations Reid Ryan.
02/8/2018 - Celebrating Houston's 34s. Along with Earl Campbell and Hakeem Olajuwon, inducted into the inaugural class of the Houston Sports Hall Of Fame.
The Teams
By The Numbers
Extra Innings

Thanks for visiting my tribute page. Publishing this page has been truely a labor of love. A lot of time was spent researching the facts so they would be as accurate as possible. I have attempted to make this page as enjoyable as possible without putting an emphasis in the numbers and various records Nolan had accumulated in his career. As anyone who knows Nolan would already know, the man represented more to baseball than numbers can ever reflect.

My Nolan Ryan card collection started in August of 1983 with the purchase of 2 cards for the price of one - a 1982 Topps Highlight packaged with a 1982 Donruss Diamond King for the total cost of 25 cents. That initial purchase made at Sports Collectibles Of Houston, guided me on the quest I am still pursuing today. I owe (and sometimes curse) hobby icon Larry Dluhy for flaming my interest in the hobby. I am honestly grateful for his influence in my collection but mainly for his friendship.
Comments are welcomed and appreciated.
Please leave a message at my signature.


HOUSTON, TEXAS
© 1996 by All rights reserved.